Rotajet IBC Machinery to
Fill
Wash
Dry
Pressure Test
Recondition
IBC cleaning is an easier process than many people think. Washing or reconditioning an IBC is a task that is often outsourced to an outside company and this is normally at substantial cost…
At Rotajet we have designed systems to allow you to wash, test and dry efficiently and in a way which is cost effective, user friendly and delivers great results.
From small volumes right up to automated reconditioning facilities, our modular IBC cleaning systems are versatile enough to suit any purpose.
For any queries or help finding the right match, a member of our team will always be happy to help.
UK design meets US manufacturing. How Rotajet's and PRI's new arrangement will fulfil rising demands in the US market. The RJ-IW tote washing system has been in service for decades in Europe. Through rising demand
Read More »
IBC Cleaning and Reconditioning
IBC washers, pressure testers, dryers and detailing stations can either be used as standalone machines or configured together to form a complete IBC reconditioning system.
A modular bolt-on design means our customers can expand their facility in line with their business growth. This allows systems to be added to increase throughput or capability as they require, without disruptive factory moves and installations. 
IBC VIDEO PLAYLIST:
Test wash and Dry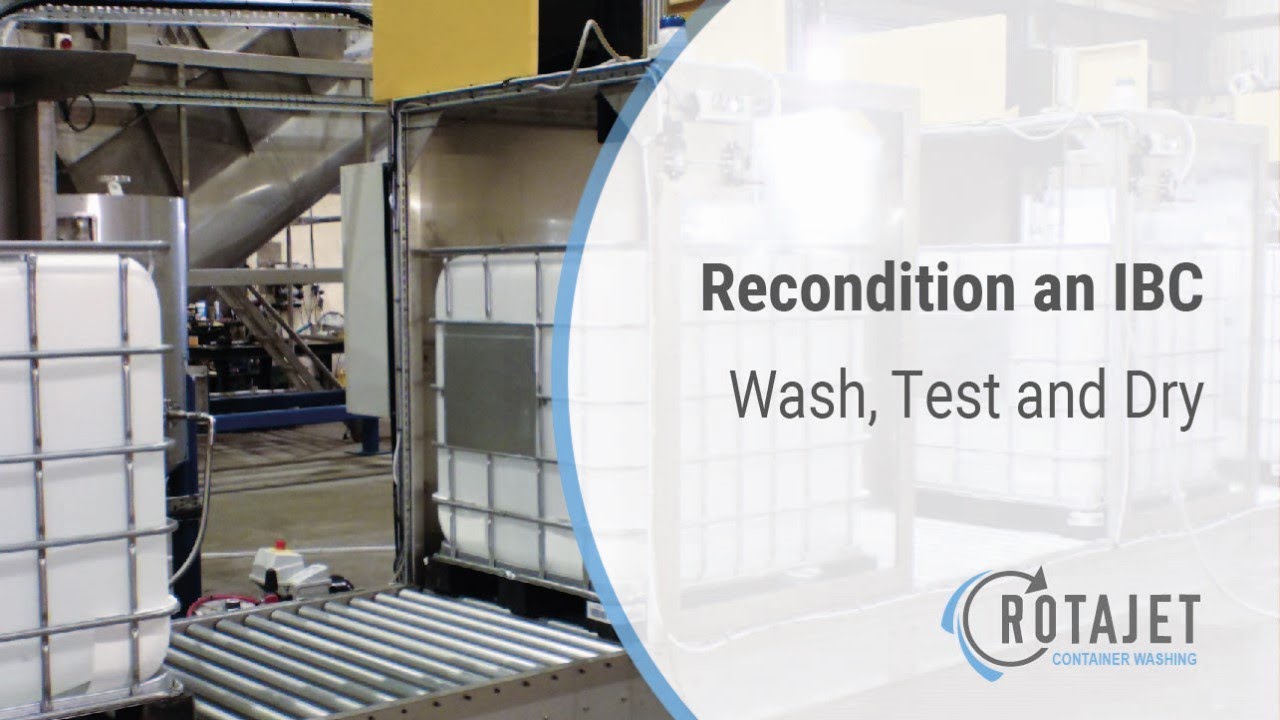 IBC Reconditioning line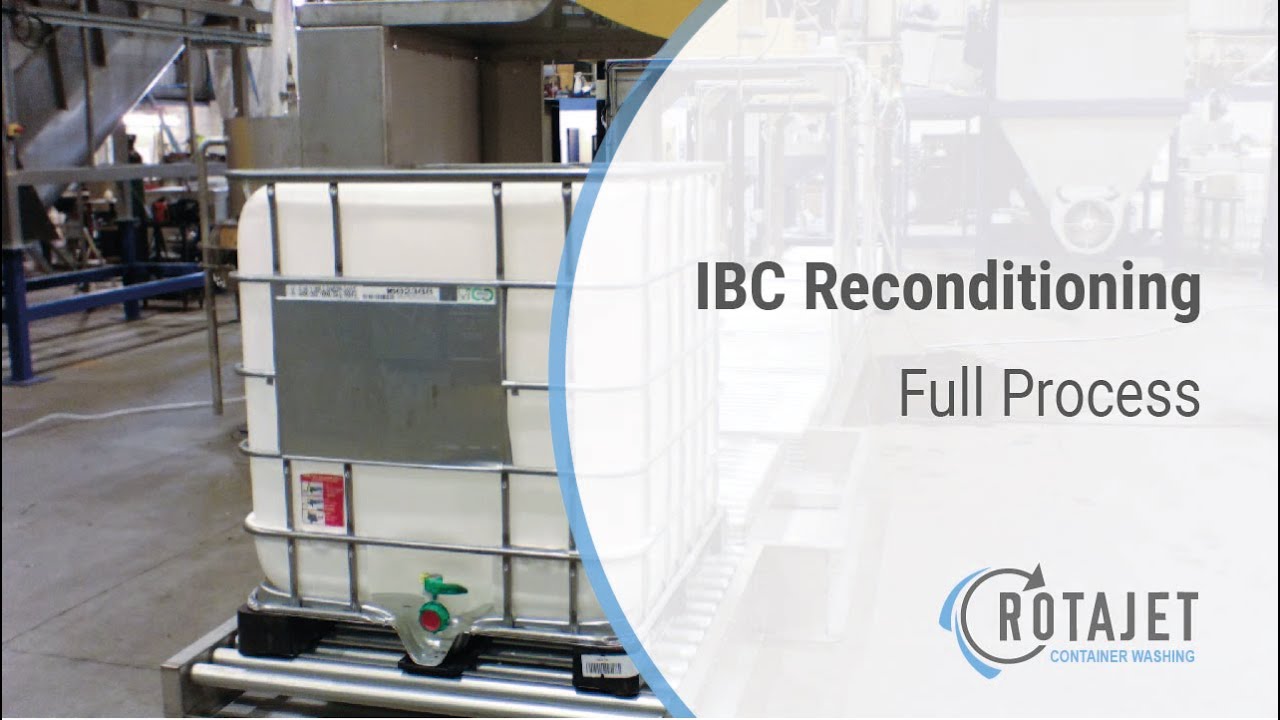 Complete IBC line 3D animation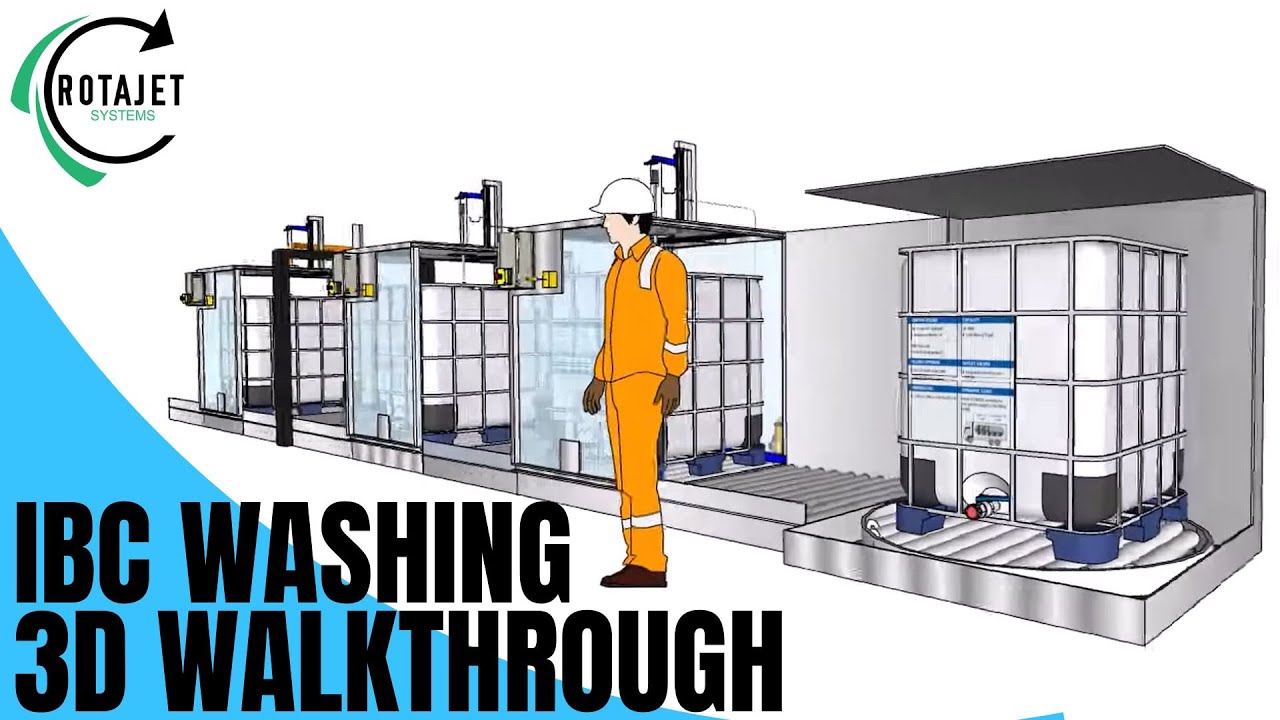 IBC Internal washer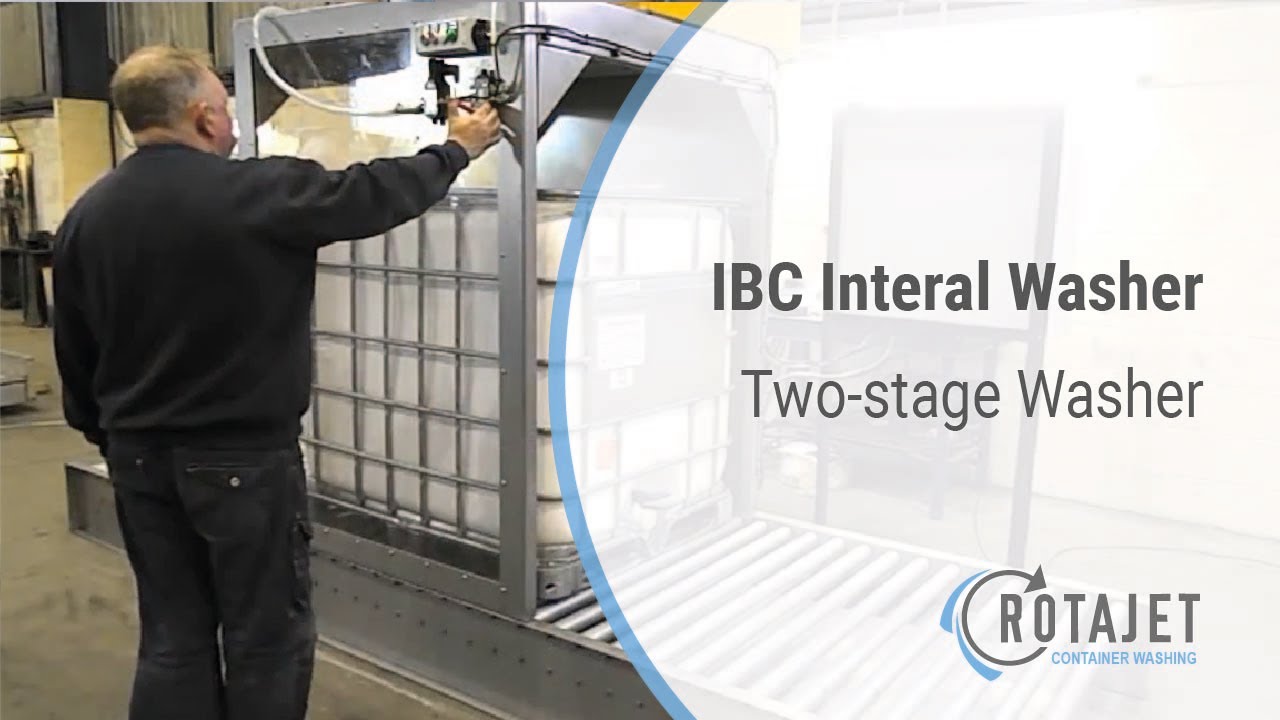 IBC Tipping Vac Station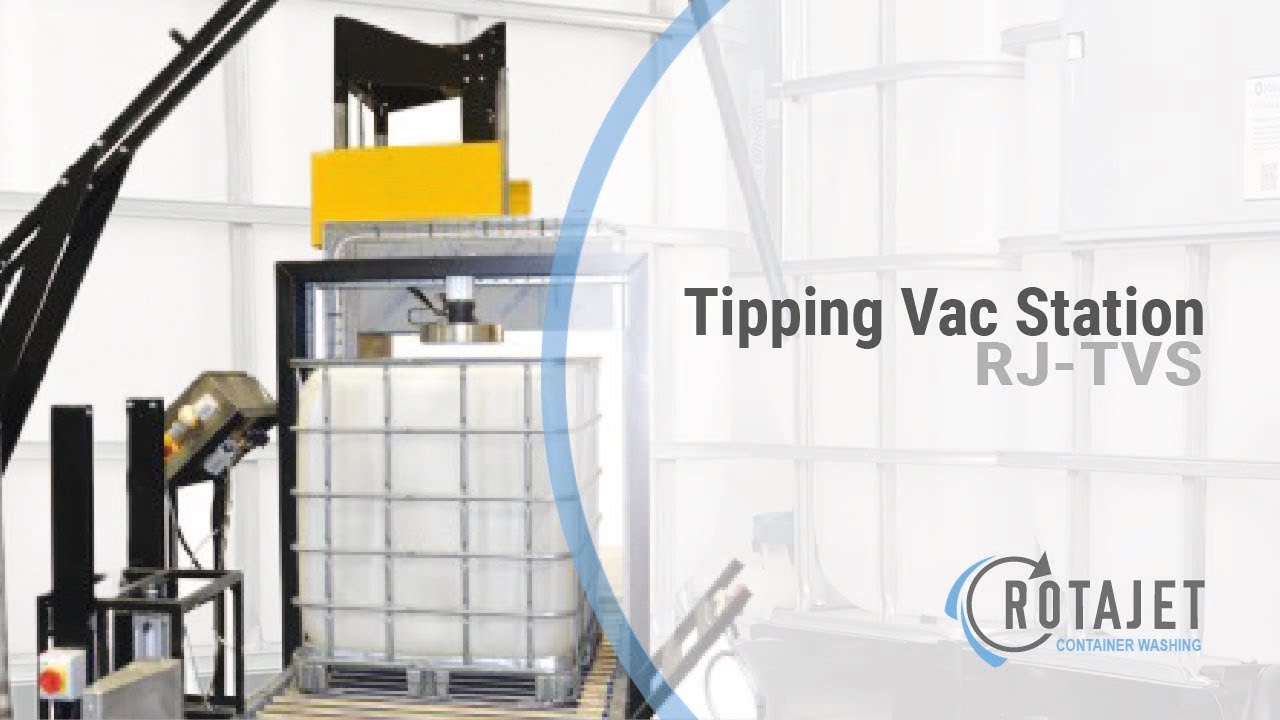 The first stage in IBC reconditioning is to empty the IBC of any remaining liquid. This can be done initially by draining the IBC through its built-in valve. Once this is complete, it is advisable to use a tipping vacuum station to suck out as much of the remaining material as possible. This will keep your wash liquors used in the internal washing stage, clean for a longer period; therefore, reducing the operating costs of your process.
Once the IBC is empty, the tote is then moved into the external washing and visual inspection stage. At this point, the IBC is washed down with a high-pressure washer whilst the operator looks for any signs of obvious damage.
In our system, the module  RJ-IWE is used. This comprises of a 360° rotating bed, a built-in high-pressure pump, and a canopy to reduce splash-back. The spent water is collected in the module's drip tray and is typically sent straight to drain. This makes it quick and easy to remove any labels and external contamination.
Once the operator has completed this stage, the IBC is pushed effortlessly over the specially designed transfer unit and into the next station.
During the wash stage, either a caustic solution or aqueous detergent is used depending on the contamination you are dealing with.
After the arm has been lowered into the vessel, wash liquor is delivered between 30 & 180 bar from a 360° spray nozzle. This will completely cover all internal surfaces of the IBC. The combination of chemical and physical impingement removes the contamination, leaving only minor residues of the wash liquor inside the IBC.
So no matter the size of your operation or the intended application an IBC reconditioning system from Rotajet can reduce labour, increase your production and achieve a repeatable and reliable cleaning quality.
If you require, a pressure tester may be integrated into your IBC washing line. This fast and effective control measure is the most reliable way to ensure no leaks occur once the IBC has been refilled.
To complete this process, the valve must be closed to create a sealed unit. Depending on your requirements, the test sequence can either be initiated by a start button or by another device such as a photocell or limit switch. All parameters are controlled via the central control panel and feedback is provided by the intuitive traffic light system. Once we get the green light, the IBC can be moved onto the final stage.
If you are cleaning IBCs for reuse, it may be important to fully dry the container. Our powerful thermal dryer uses a high-volume air blower at 130°C to rapidly dry the interior of the IBC. Cycle times can be fully controlled.
To reduce the time and operating costs during the thermal drying stage, you may choose to add a tipping vac station to remove any puddling of water present. Our RJ-TVS tips the IBC at 30° allowing the water to collect along one edge. An operator can then pull down the vacuum arm and quickly remove the bulk of the water.
Once complete, the IBC is fully reconditioned ready for reuse.
At Rotajet, we understand the unique demands when it comes to IBC Washing. That's why, as an optional extra, our IBC reconditioning systems are available with a Remote Monitoring that allows the operator to remotely access necessary information from the plant. Remote Monitoring allows the operator to receive information and updates on the IBC Washing System from anywhere, at any time, including alerts for potential faults that may require fixing.
As an extra measure, with granted access our in-house engineers can even run diagnostics that could get your IBC system back up and running without the need for any input from your operators, so that your production line can be made as simple and hassle free as possible.
For larger plants, a Remote Monitoring System can even allow you to optimise your machinery remotely, including making adjustments to;
Cycle Timers

Temperatures

Pressures

Chemical Dosing Rates

Production Numbers
Our remote monitoring systems aren't just limited to Automatic IBC Washing Systems, but are also available on our other available plants, including; Rotajet Plastic Recycling Systems.
For more information on how a Remote Monitoring System can optimise your machinery, please contact our team for your personalised assessment.
With 30 years' experience in chemical degreasing we understand the complexities facing container reconditioners. That is why our standard washers can be adapted to handle specialised contamination.
It is possible to recondition IBCs for reuse as food storage however it is imperative that steps are taken to ensure the contents are suitable for human consumption.
When washing an IBC containing food stuffs for reuse the same principles must be followed when washing any container or machinery for use in the food industry.             
A process known as CIP (Clean-in-place) is used in the food industry and a similar procedure is used by Rotajet machines to clean a food grade IBC.
Firstly, a caustic wash is used to remove any lipids and heavy contamination. Sodium Hypochlorite is then used to flush the system. Finally, a freshwater rinse removes any remaining chemical and contamination residues.
Examples of contamination
Vegetable Oil, Fuels, Grape Seed Oil, Sesame Oil, Avocado Oil
Milk, Honey, Liquid Yeast, Essences, and flavours
We aim to get back to any enquiry within 12 hours, so please contact us if you are interested in a specific machine or would like to discuss an individual cleaning application. Our friendly team are happy to help via email at info@rotajet.co.uk or by phone on +44 (0) 1924 271446