Rotajet IBC Machinery to
Fill
Wash
Dry
Pressure Test
Recondition
IBC cleaning is an easier process than many people think. Washing or reconditioning an IBC is a task that is often outsourced to an outside company and this is normally at substantial cost…
At Rotajet we have designed systems to allow you to wash, test and dry efficiently and in a way which is cost effective, user friendly and delivers great results.
From small volumes right up to automated reconditioning facilities, our modular IBC cleaning systems are versatile enough to suit any purpose.
For any queries or help finding the right match, a member of our team will always be happy to help.
IBC Cleaning and Reconditioning
IBC washers, pressure testers, dryers and detailing stations can either be used as standalone machines or configured together to form a complete IBC reconditioning system.
A modular bolt-on design means our customers can expand their facility in line with their business growth. This allows systems to be added to increase throughput or capability as they require, without disruptive factory moves and installations. 
IBC VIDEO PLAYLIST:
Test wash and Dry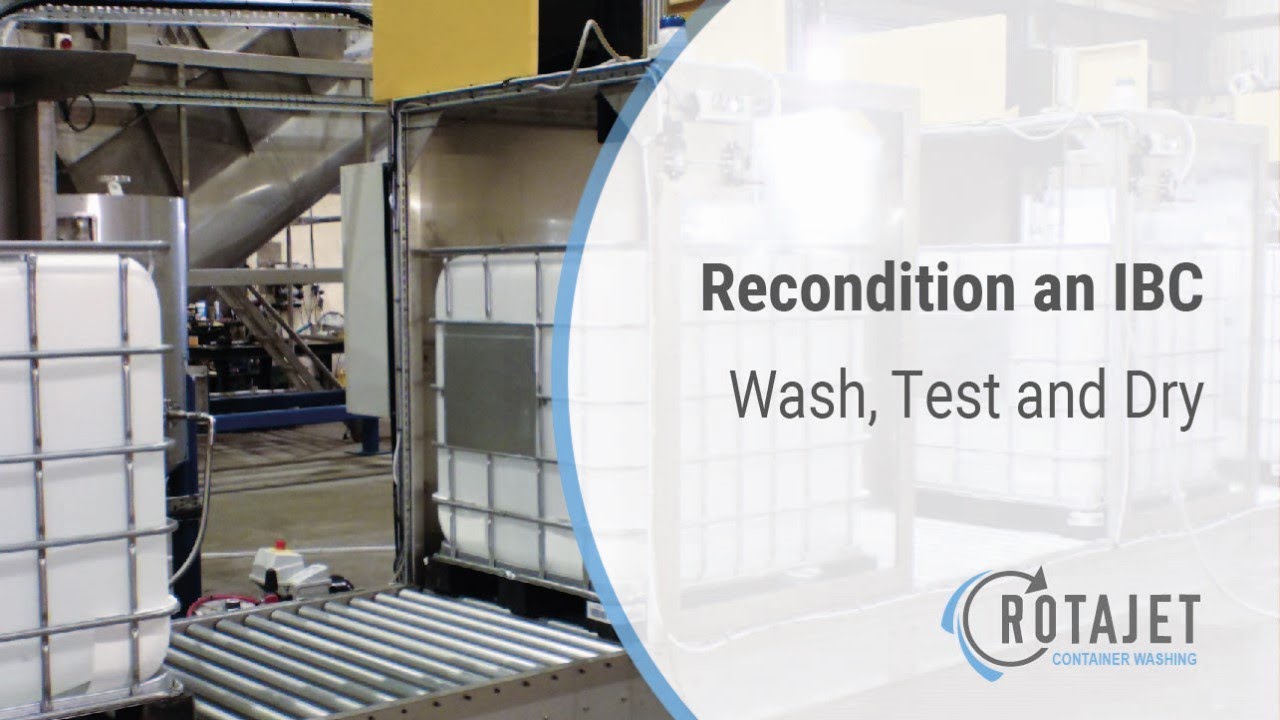 IBC Reconditioning line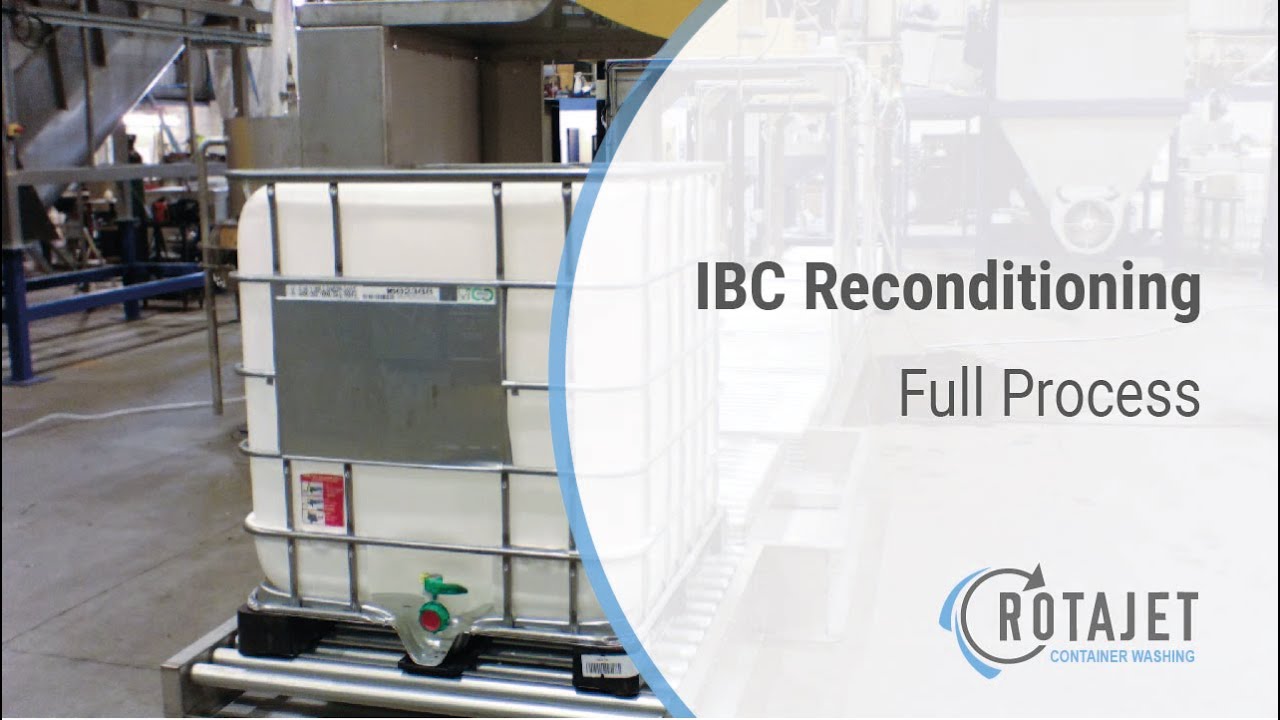 Complete IBC line 3D animation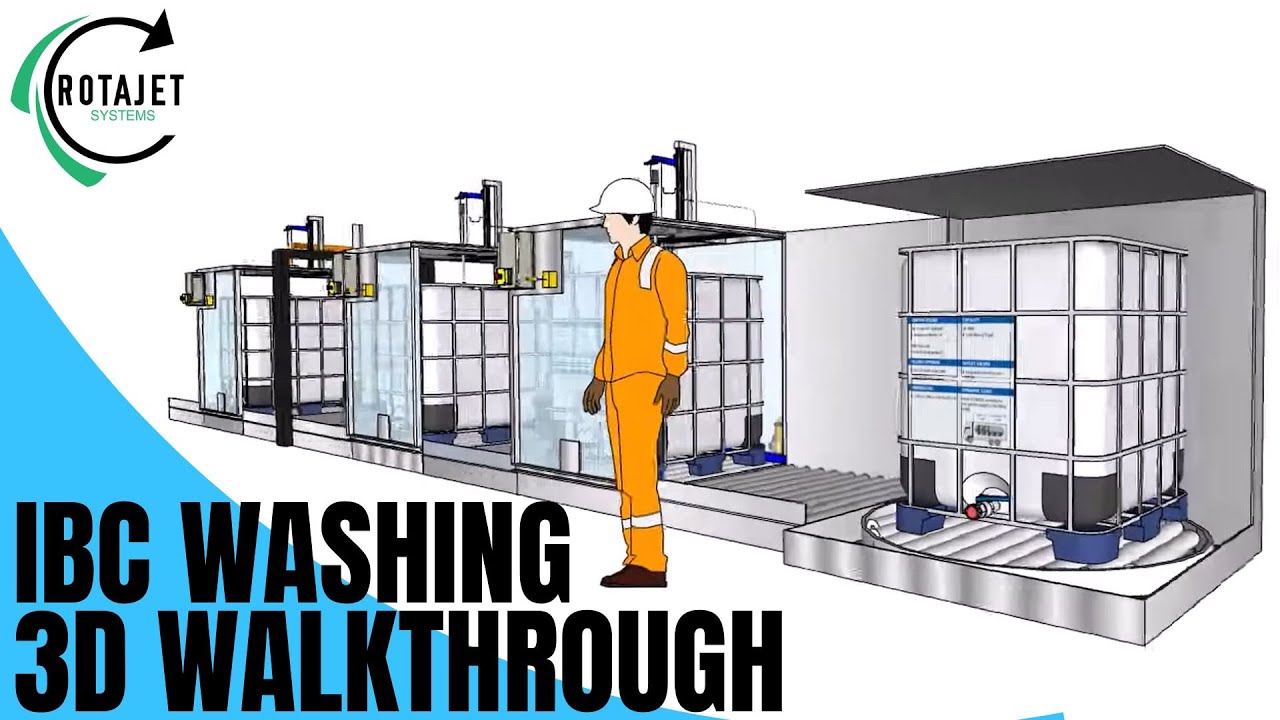 IBC Internal washer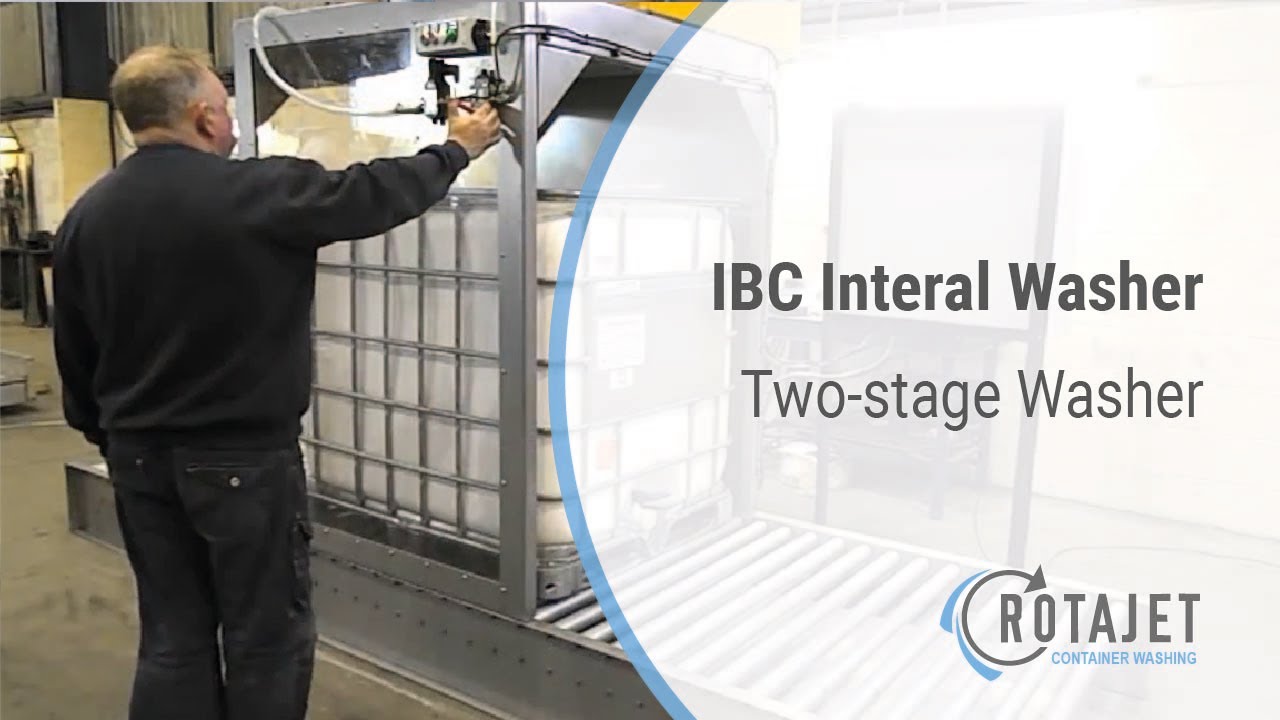 IBC Tipping Vac Station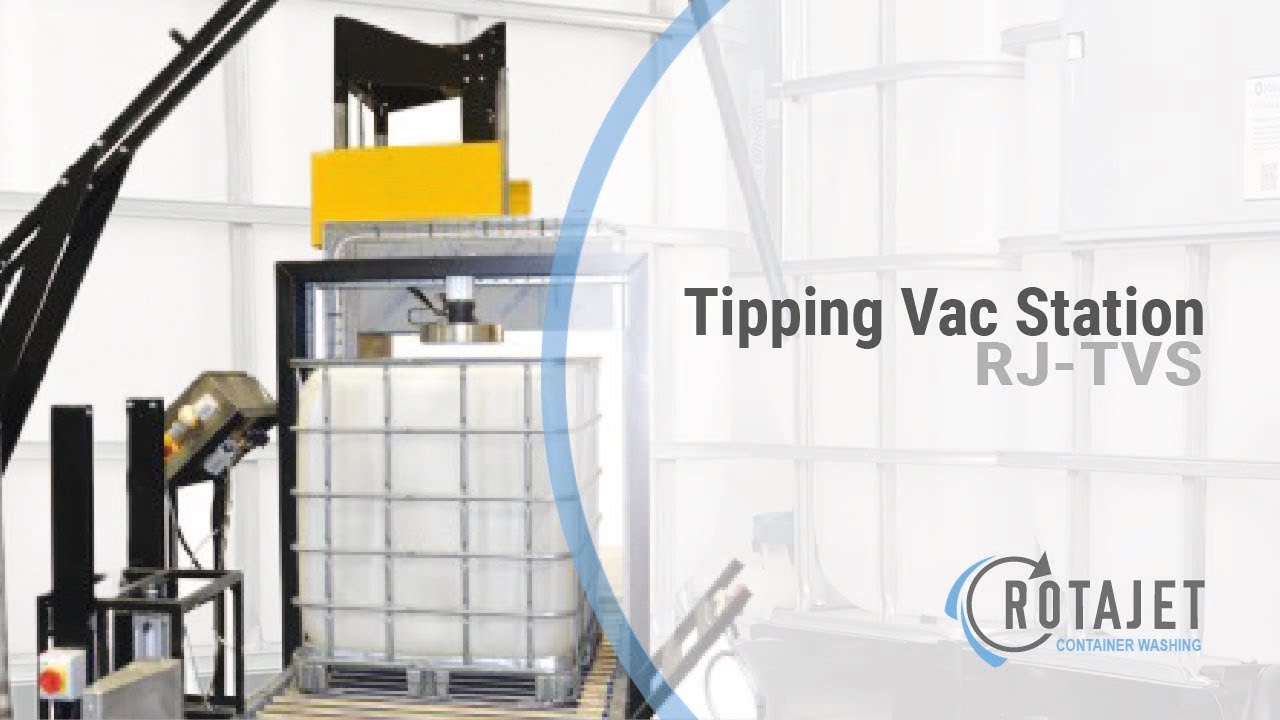 The RJ-IWE is an external washing station that allows for the rapid cleaning of IBCs. The IBC is simply rolled onto the washing platform, allowing the container to be rotated 360°.
This high-pressure internal washer strips contaminates from the inside of the IBC. The RJ-IW can be used as a single-stage chemical wash (RJ-IW/1C) and rinse (RJ-IW/1), or as a two-stage machine, wash and rinse (RJ-IW/2).
Our IBC Pressure tester ensures each IBC is suitable for reuse by filling the container with compressed air. Reductions in pressure through a crack or puncture indicates that a leak would occur after it has been refilled.
This station is fitted with a high-volume air blower which is lowered into the IBC on a pneumatic ram. To ensure maximum efficiency, a heat exchanger is used; allowing the system to rapidly heat the air to 130°C.
The first stage in IBC reconditioning is to empty the IBC of any remaining liquid. This can be done initially by draining the IBC through its built-in valve. Once this is complete, it is advisable to use a tipping vacuum station to suck out as much of the remaining material as possible. This will keep your wash liquors used in the internal washing stage, clean for a longer period; therefore, reducing the operating costs of your process.
Once the IBC is empty, the tote is then moved into the external washing and visual inspection stage. At this point, the IBC is washed down with a high-pressure washer whilst the operator looks for any signs of obvious damage.
In our system, the module  RJ-IWE is used. This comprises of a 360° rotating bed, a built-in high-pressure pump, and a canopy to reduce splash-back. The spent water is collected in the module's drip tray and is typically sent straight to drain. This makes it quick and easy to remove any labels and external contamination.
Once the operator has completed this stage, the IBC is pushed effortlessly over the specially designed transfer unit and into the next station.
During the wash stage, either a caustic solution or aqueous detergent is used depending on the contamination you are dealing with.
After the arm has been lowered into the vessel, wash liquor is delivered between 30 & 180 bar from a 360° spray nozzle. This will completely cover all internal surfaces of the IBC. The combination of chemical and physical impingement removes the contamination, leaving only minor residues of the wash liquor inside the IBC.
So no matter the size of your operation or the intended application an IBC reconditioning system from Rotajet can reduce labour, increase your production and achieve a repeatable and reliable cleaning quality.
If you require, a pressure tester may be integrated into your IBC washing line. This fast and effective control measure is the most reliable way to ensure no leaks occur once the IBC has been refilled.
To complete this process, the valve must be closed to create a sealed unit. Depending on your requirements, the test sequence can either be initiated by a start button or by another device such as a photocell or limit switch. All parameters are controlled via the central control panel and feedback is provided by the intuitive traffic light system. Once we get the green light, the IBC can be moved onto the final stage.
If you are cleaning IBCs for reuse, it may be important to fully dry the container. Our powerful thermal dryer uses a high-volume air blower at 130°C to rapidly dry the interior of the IBC. Cycle times can be fully controlled.
To reduce the time and operating costs during the thermal drying stage, you may choose to add a tipping vac station to remove any puddling of water present. Our RJ-TVS tips the IBC at 30° allowing the water to collect along one edge. An operator can then pull down the vacuum arm and quickly remove the bulk of the water.
Once complete, the IBC is fully reconditioned ready for reuse.
At Rotajet, we understand the unique demands when it comes to IBC Washing. That's why, as an optional extra, our IBC reconditioning systems are available with a Remote Monitoring that allows the operator to remotely access necessary information from the plant. Remote Monitoring allows the operator to receive information and updates on the IBC Washing System from anywhere, at any time, including alerts for potential faults that may require fixing.
As an extra measure, with granted access our in-house engineers can even run diagnostics that could get your IBC system back up and running without the need for any input from your operators, so that your production line can be made as simple and hassle free as possible.
For larger plants, a Remote Monitoring System can even allow you to optimise your machinery remotely, including making adjustments to;
Cycle Timers

Temperatures

Pressures

Chemical Dosing Rates

Production Numbers
Our remote monitoring systems aren't just limited to Automatic IBC Washing Systems, but are also available on our other available plants, including; Rotajet Plastic Recycling Systems.
For more information on how a Remote Monitoring System can optimise your machinery, please contact our team for your personalised assessment.
With 30 years' experience in chemical degreasing we understand the complexities facing container reconditioners. That is why our standard washers can be adapted to handle specialised contamination.
It is possible to recondition IBCs for reuse as food storage however it is imperative that steps are taken to ensure the contents are suitable for human consumption.
When washing an IBC containing food stuffs for reuse the same principles must be followed when washing any container or machinery for use in the food industry.             
A process known as CIP (Clean-in-place) is used in the food industry and a similar procedure is used by Rotajet machines to clean a food grade IBC.
Firstly, a caustic wash is used to remove any lipids and heavy contamination. Sodium Hypochlorite is then used to flush the system. Finally, a freshwater rinse removes any remaining chemical and contamination residues.
Examples of contamination
Vegetable Oil, Fuels, Grape Seed Oil, Sesame Oil, Avocado Oil
Milk, Honey, Liquid Yeast, Essences, and flavours
To remove solvent based inks and paints it may be necessary for the machine to be manufactured to ATEX standards to remove the potential of ignition.
An ATEX internal washer can be installed as an offline process, in a dedicated ATEX zone, or incorporated into a full ATEX certified reconditioning system.
So no matter the size of your operation or the intended application an IBC reconditioning system from Rotajet can reduce labour, increase your production and achieve a repeatable and reliable cleaning quality.
With an estimated worth of US$19 billion in 2018, the IBC market is a sizeable one which is only growing more each year; with a projected increase of yet a further 6% over ten years. 
This is great news; particularly for the chemical and healthcare & pharmaceuticals industries which continue to be frontrunners within the market share; with the healthcare industry's revenue opportunities predicted to be at a substantial US$40.2 billion. 
Compared to drums, IBCs for storage and transportation of liquids make for easier stacking and allows for a reduction in unfilled space, thanks to the shape and dimensions of IBCs. As an upshot of using IBCs, the industry has seen a reduction in the costs of transporting liquids, thus stimulating a global market growth for IBCs. 
For further ease of transportations, IBCs allow pallets to be placed underneath; allowing for easy manoeuvring with forklifts. This adds further value to the IBC, making it more attractive when compared to the drum. Other factors which make the IBC appealing are their reusability and reliability; especially due to their thorough manufacturing and periodic reconditioning. These collective benefits of using an IBC for storage and transportation have been estimated to cut costs by up to 75% when compared to a drum. 
With European regions set to see a boost in end-use industries such as chemical, food & agriculture; IBCs are particularly expected to see a significant increase in demand across Europe in the coming years. Furthermore, Germany in particular is predicted to generate an increased demand in IBCs due to their chemical production. 
Trade is continuously experiencing an increase between companies around the world year on year. But with ongoing projects between economic capitals like China and India, as well as North America's increased demand for food and chemical goods; trade volume is set to as much as double over the next five years. This will inevitably result in the increased demand for IBCs globally in the storage and transportation of these commodities.
As raw materials are constantly experiencing a fluctuation in price, this has had a knock-on effect for increasing the cost of IBCs. 
This can particularly be seen with IBC manufacturers Greif, Inc., where IBC prices have increased exponentially as a result of limited raw material imports and delayed deliveries jointly.
The continuous growth of end-use industries in China and India will theoretically mean a surge in demand for IBCs; connoting a considerable IBC market share across South & East Asia collectively. This makes both South & East Asia look incredibly lucrative to IBC manufacturers who are aiming to capitalise
The IBC market can be categorised by two major players that influence the market: tier 1 and tier 2 players. Tier one players can be understood as those with a wide product variation that contributes heavily to the expansion of the IBC market. These tier one companies are forecasted to expand further through the collaboration and/or acquisition of regional manufacturers.
Tier two players, on the other hand, have a generous overseas presence and a notable IBC portfolio, while tier three players comprise the unorganised division.
The storage and transportation of hazardous chemicals is an inherently precarious task. For this reason, IBCs have made a significant presence across the chemical and petrochemical sectors in recent years due to their safe and reliable construction. 
The sudden prominence of IBCs has allowed manufacturers to develop and remodel IBCs for a range of uses: for the chemical industry, this has seen the emergence of the stainless steel IBC which is capable of carrying up to 793 gallons of liquid. 
These IBCs offer robust, reliable, easy-to-clean and reusable options to chemical manufacturers.
Being ahead of the curve in recent years has allowed Europe and North America to position themselves as frontrunners in the IBC market. This has been particularly governed by the appointment of policies and regulations regarding the safe use and disposal of IBCs. 
For Europe, their emergence of bag-in-box IBCs has also played a role in increasing the demand of flexible IBCs; especially within the cosmetic pharmaceutical industry. On top of this, the need for reliable and robust IBCs in the chemical and food & agriculture industries have further encouraged IBC demand in Europe and North America alike. 
The food industry has been focused on reducing one-use packaging in the transportation of food goods. While a solution to this could significantly reduce costs and increase profit margins, it could also provide for a more environmentally-friendly alternative. While hygiene standards can marginally compromise the use of IBCs in the food sector, they offer a much more sustainable and profitable way of transporting food goods. In order to maintain health and safety standards for the use of IBCs in the food industry, using flexible IBCs that can be reconditioned reduces risk to human health; for this reason, flexible IBCs have seen a steady increase in popularity within the sector.
Due to the increase in awareness surrounding environmental challenges, it is no surprise that recyclable and sustainable materials have seen an upsurge in demand. This has been no different for the IBC market, where environmental concerns are expected to have a major influence over the market growth of IBCs thanks to their sustainable manufacture. As well as the environment, the IBC market is predicted to experience a surge as a result of the expansion of the chemical industry in Europe and North America. Recent trends would also serve to suggest a similar pattern for the food and ecommerce sectors which have similarly been experiencing advancement in recent years.
With the current forecast of the market, use of IBCs across a range of industries around the globe is predicted to soar over the coming years. Owing to their reliability, sustainability, space efficiency and durability, especially when compared to alternatives such as drums; we can predict that the IBC market will inevitably expand rapidly in the foreseeable future.
We aim to get back to any enquiry within 12 hours, so please contact us if you are interested in a specific machine or would like to discuss an individual cleaning application. Our friendly team are happy to help via email at info@rotajet.co.uk or by phone on +44 (0) 1924 271446